Chicago Cubs Uniform History 1900-1971
Click to view: 1972-2004 2005-present

---
Despite not winning a World Series in over a million years, the Cubs are much beloved.
1900-02
Blank home white, road grey. Red accent used in 1900 changes to blue in 1901-02.
1903
"C" insignia added to left pocket on both.
1904
Return to blank white home, grey road.
1905
"CHICAGO" added to chest of road grey.
1906
Pockets dropped. "C" logo added to home jersey.
1907
"C" becomes stylized. "CHICAGO" enlargd on the road jersey. A pinstriped home version is worn in the World Series.
1908
The logo is changed to a brown "C" around a bear. Pinstriped grey version is worn on the road.
Navy hats instead of white are worn at home in the 1908 World Series.
1909
Home jersey collar flaps are replaced by a sun collar. Road jersey changed to pinstripes with placket lettering and a "Cubs" logo. Home and road caps are white.
Spalding
1910
Home jersey is the same, placket lettering dropped from road shirt.
1911-12
Home shirt gets pinstripes and the insignia changes to navy. Road jersey changed to navy, and the "C" surrounds a bear again.
Spalding
1913
Home white and road navy with "CUBS" across the front.
1914
Font changed to tuscan. Road jersey changed to grey with "CHICAGO" across the chest. Bear inside a "C" sleeve patch added. Bear with bat logo on caps.
1915
Lettering darkened to navy. Sleeve and cap logos dropped.
1916
Home white and road grey have a red "C" around a walking bear.
1917
Home white and road grey have "CHICAGO CUBS" across the chest and a US flag on the sleeve./p>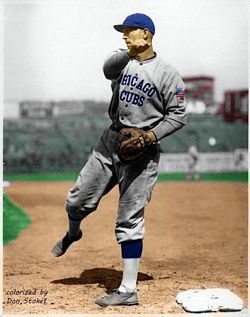 1918
A rather modern pinstriped look.
1919
Pinstriped home and road grey, lettering is blue with dashes of red. "CUBS" on that road jerseys is not hard to see.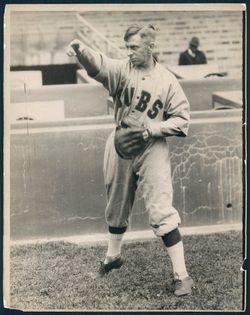 1920
Home is unchanged, road lettering gets smaller and is plain blue.
1921-22
"CUBS" is no longer arched.
Wilson
1922-23
New home style debuts mid 1922. HOF database shows a road jersey with pinstripes though I can't find a photo of it.
Spalding
1924
Home jersey wishbone C changes shape a bit and is now red with navy trim. Placket piping added. Sleeve stripe added to road jersey. Caps are navy with pinstripes.
Wilson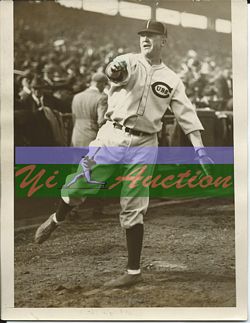 1925-26
"C" becomes more rounded on home jersey. New road jersey with "CHICAGO" in arched tuscan. The 1924 style may have also been used early in the season. Road cap changed to grey with navy pinstripes.
NL 50th anniversary patch worn.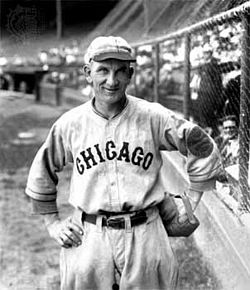 Both the 1925 and 1924 home styles may have been used in 1926.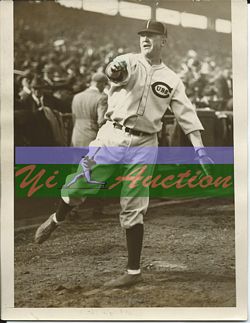 Sleeve patch would have been removed for reuse in 1926.
New cap with "C" logo debuts mid-1926.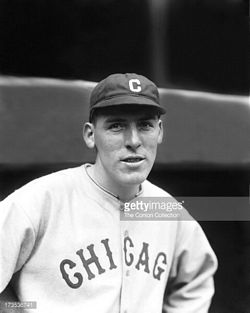 1927-28
"C" around the bear returns to home shirts. Red outline added to road jersey lettering. Caps are navy with no logo.
Spalding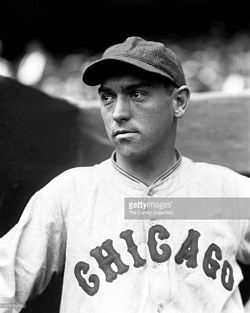 1929
Bear and bat sleeve patch added to road jersey. Caps are navy with no logo
This pic is from 1930, the cap logo was added in 1930.
That's a 1930 cap in the B&W photo as jerseys were reused the following year.
1930
Alternate pinstriped home jersey with a wishbone "Cubs" logo added. Sleeve patch changed on road jersey and placket piping added.
1931
Sleeve patch changed on road jersey to match home jersey logo. Alternate pinstriped home jersey is dropped, a cream alternate jersey with "Chicago" in red script and a red cap is added and is probably worn at home. The wishbone "C" cap logo closes a bit.
Spalding
1932
Home placket piping changes to red from navy. Home alternate blue pinstripes with fancy "Cubs" in blue and gold on left chest joins the set. Numbers added to jersey backs in June.
Spalding
1933
Home jersey gets solid navy placket. Sleeve patch dropped from road jersey. Cream alternate dropped, grey road alternate debuts.
Wilson
1934
Home jersey returns to the 1932 style, as the colored placket is dropped. An alternate home jersey is solid white with a rounded "C" around a golden chain-stitched bear with a ball. Road jersey gets buttons all the way down the front.
Wilson
The "C" has unfortunately been removed here. Cap also had a rounded "C" trimmed in gold.
1935-36
Golden bear with ball home jersey is dropped. Home alternate changed to "CHICAGO" straight across in tuscan. Road alternate dropped.
Spalding
1937
Owner Mr. Wrigley was looking for a new look, and his designers respond with a change to electric blue, and become the first to use zippered jerseys.
GoldSmith
The team actually wore Spalding jerseys most of the season.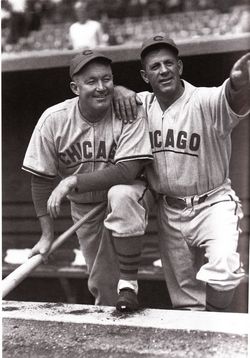 1938-39
Racing stripes added to both home and roads.
Spalding
1938 jerseys were re-issued in 1939 with the Baseball Centennial patch added.
Patch was removed here.
1940
The Cubs are the first team to use the sleeveless vest. Both vests are worn with a blue long-sleeved undershirt with red stripes at the cuffs, and the home vest is also worn with a white short-sleeved shirt between the undershirt and the jersey.
Cap logo changed from rounded "C" to thin wishbone.
Spalding
1941
The home undershirt shoulders change to white, giving the outfit a distinct look. A new baby blue(!) road jersey is added mid year.
Spalding
1942
Grey road vest dropped.
Health patch worn in 1942.
1943-48
A redesigned look, and buttons return.
Wilson
1948-56
The Cubs return to zippered jerseys in late 1948.
Spalding and Wilson
Wilson
1957
Wilson
The Cubs put pinstripes on home jerseys in 1957, roads have "Chicago Cubs" on the front, a throwback to the 1917 jersey.
1958-61
Wilson
Buttons return. New road jersey. Piping dropped from cap.
1962-68
Bear cub logo appears on sleeves. Cap logo gets thicker.
Wilson
Sleeve patch added to this 1961 jersey for reuse in 62.
Spalding
Wilson
1969
Road jersey loses red trim and gains a front number. MLB 100th anniversary patch worn.
Wilson
1970-71
Home jersey logo is redesigned, the "C" and blue circle get thicker.
Wilson