St. Louis Cardinals Uniform History1900-1961
Click to view: 1962-1997 1998-present

---
1900
"St. LOUIS" arched across home white laced jersey and road grey buttoned jersey. Red cap with St.L insignia.
1901-06
Home jersey lacing replaced with buttons.
Home cap is white in 1903.
No insignia on white home cap in 1904.
Red cap with insignia used home and road in 1905.
Road cap is grey in 1906.
1907-08
Red trim around collar flap on home jersey. Red cap worn home and road.
1909
Collar flap dropped on home jersey. "St. L" insignia on left sleeve of home white and road grey jerseys. Home white and road grey caps with red piping.
The guy on the far right in the 2nd pic is in a Browns jersey.
1910-16
Collar flap dropped on road jersey as well.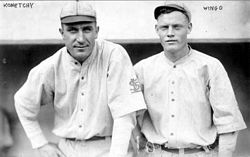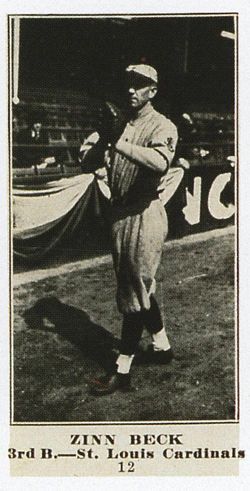 1917
Home sleeve insignia is larger and a differnt style - any photos?
1918-19
Pinstriped white home, road grey jerseys with "Cardinals" in cursive. Red caps with "SL" insignia.
Pillbox throwback cap and US flag sleeve patch worn at home in 1919.
1920-21
Plain white home jersey with placket piping and white cap with piping. "St. LOUIS" arched across road grey jersey with a grey cap.
1922
Birds on bat debut, a radical style change for MLB jerseys of the day. Cream home jersey cap, grey road jersey and cap. Both caps have red piping. An alternate pinstriped home jersey has "CARDINALS' across the chest and a bird on the sleeve, worn with a pillbox cap was worn weekends and holidays. Here's a great piece on it.
Rawlings distributed by Leacock
1923
On the home jersey, the "C" is not as far above the bat as on the road jersey. Numbers worn on home shirt left sleeve for part of the year. Solid white cap with red crown band worn at home. Home alternate "CARDINALS" jersey is dropped.
1924-25
Pinstripes added to road jersey. Sleeve numbers gone from home jersey and home cap goes back to white with piping.
NL 50th anniversary sleeve patch on 1925 jerseys.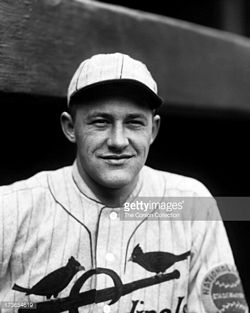 1926
The regular season home jersey is blank with "St.L" on the sleeve (the "L" looks more like an "M").
Spalding (home), Rawlings distributed by Leacock (road)
The regular season road jersey is the same as the 1924-25 look.
New jerseys are issued for the 1926 World Series. Piping is added to the home jersey and the "St.L" sleeve logo design is different.
1926 World Series road jersey has the "C" closer to the bat, as it was on home jerseys 1922-25. It has long sleeves with piping at the cuff; sleeves were cut off this jersey.
1927
To celebrate the World Series win, jerseys have a cardinal surrounded by "World Champions". Pinstripes are added to home jerseys.
Spalding (home), Rawlings distributed by Leacock (road)
The road jersey was initially pinstriped grey with the same "World Champions" logo.....
.........however I've read that this boasting didn't go over well with other teams and their fans, so the Cards returned to the pinstriped jersey from the 1926 World Series (with the smaller "C"), quite probably the same 1926 set.
Now this is interesting. These pictures are from a minor league team in 1928. The jersey on the left sure looks like the 1927 "World Champions" road jersey. Being unpopular, the Cards probably wore them only a few times and sent them down to the minors. The one on the right sure looks like the Card's 1926 World Series home jersey (note the piping and sleeve logo) but has a cardinal logo surrounded by "Worlds" (not World) "Champions". My guess, either they planned to use the 1926 WS home style in 1927, or else the bird and lettering was embroidered onto those 1926 WS jerseys (in which case this is the 1926 World Series home jersey!). At any rate, the team went with the other home style for 1927 and this wound up in the minors.
1928
Home jersey similar to 1927 but without "World Champions". Same pinstriped road jersey.
Spalding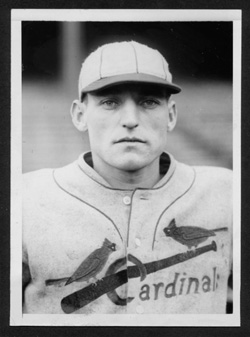 1928-29
1929 jerseys debut at the 1928 World Series. Piping now extends down the placket past the logo on the home jersey. Road jersey loses the pinstripes and is solid grey.
J. M. Sainz
1930
Road jersey script changes to "St. Louis".
J. M. Sainz
1930-31
"St. Louis" replaces "Cardinals" on home jerseys for the 1930 World Series. Home jersey piping no longer extends all the way down the placket again. This set carries into the 1931 season.
Rawlings
1932
Numbers added to jersey backs.
Rawlings
Four leaf clover patch worn for World Series win the prior season.
Both home and road jerseys here.
1933
Cardinals return to the home white and road grey jerseys. Jerseys have 4 buttons.
Rawlings
1934
Now jerseys have 5 buttons.
Rawlings
The team gets a new set for the 1934 World Series. The front piping goes the entire length down the placket, rather than stop at the top of the bat. It doesn't look like the 1934 jerseys are used in 1935.
1935
It looks like jerseys are back to 4 buttons with the piping down to just the top of the bat again.
Rawlings
1936-37
Navy added to piping which now extends down the full length of the placket. Navy outline added to lettering and numbers.
Rawlings
1938
Navy removed from soutache piping which is now just red. Have to be careful as the Cards used a soutache across the bottom of the placket as shown here. Their minor league teams had the soutache all the way down. Other than that the jerseys are similar. This has led to minor league jerseys being altered into fake Cards jerseys.
Rawlings
1939
Zippers.
Rawlings
Baseball Centennial patch worn in 1939.
1940-44
Racing stripes added on shoulders. Navy gains prominance as an accent, with navy caps and navy undershirts for home jerseys.
Rawlings
This is the 1941 home jersey with the "Health" sleeve patch added for reuse in 1942.
Health patch worn in 1942.
Stars & Stripes patch worn 1943-45. Home cap logo was white in 1943.
1944-45
Buttoned jerseys are used in the latter part of 1944 and early 1945.
1945-47
Zippers return.
Rawlings
The team buys a set of red satin jerseys, but deciding they were too flashy, sells them to a local teen team before using them.
1948
The Cards try satin jerseys at home.
Rawlings
1949-50
The birds stand up straighter. Worn with white undershirts home and road.
Rawlings
1951-55
Racing stripes on shoulders removed, piping gets thinner, bat turns yellow.
Rawlings
N.L. 75th anniversary patch worn in 1951.
Road caps had blue visors in 1951-52
Red visor cap worn home and road 1953-55
1956
"Cardinals" in script without the birds, in a one year style. Cardinal sleeve patch added. Buttons return. New cap style.
Rawlings
1957-61
Birds on bat return, but "Cardinals" is now written in script, somewhat similar to the 1956 script. Piping stays away. Sleeve patch dropped.
Rawlings