St. Louis Browns Caps History

---
The Browns moved to Baltimore following the 1953 season. If anyone is selling any caps like these let me know!
1927-28
Home caps are white with no logo, road grey with logo.
1929-33
Pinstripes added to road cap.
Note the chain-stitched logo, which has faded from the original dark brown.
Rawlings
1934-38
Rawlings
1939
Rawlings
A one year style with orange piping on the seams and a new logo.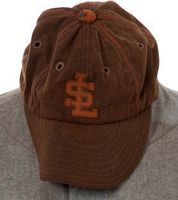 1940-45
Rawlings
Some caps were soft felt wool....
Others like this one were rough burlap. Rawlings and Sisler-Hummel Sporting Goods supplied Browns caps - I'm not sure who made this style. It's definitely from 1944.
1946-49
Rawlings
Home caps were white, road caps grey. Logos were both embroidered directly and sewn on a patch.
These ones are 8 panel cap with satin liners. I'm pretty sure they were used in 1947.
1950
Rawlings
I'm pretty sure this was a sample or prototype, most likely not used in the regular season. Thanks to Bob Evans for clarifying.
And this is the regular season cap.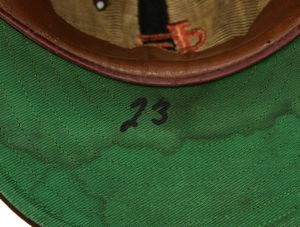 1951
Rawlings
Another one year style with orange vents, button and visor.
This cap is 8 panel
1952-53
Rawlings
The Veeck era begins with plain brown caps and a white logo.
Tim McAuliffe by Leslie
Tim McAuliffe/KM Pro
This one has the plastic helmet insert.
After the 1953 season the Browns relocate to Baltimore.