Philadelphia Athletics Uniform History

---
Moved to Kansas City after the 1954 season.
1901
Home white, grey road with uppercase "A".
1902-04
"A" changed to script.
1905-08
Road logo changed to red.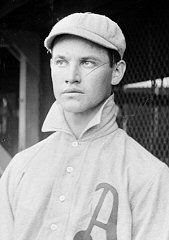 Spalding
1909
Color changed to black. The cap changes to a pillbox which is actually a throwback to the 1800's style. Alternate pinstripe road jersey is also worn in 1909.
1910-12
Alternate pinstripe road jersey dropped.
Spalding
The collar was cut off this jersey.
1913
Collars dropped, black piping added.
Spalding
1914
Pinstripes are added to the home jersey. Pillbox hat was worn in 1914.
Spalding
1915-16
Pinstripes added to road jersey. Pillbox hat dropped in favor of pinstripes.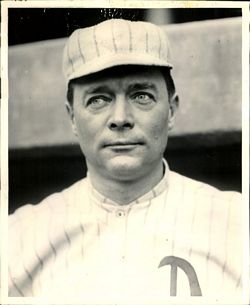 1917
Pinstripes dropped from road jersey. Pinstripe cap pattern changes, and road cap is now black.
1918-19
Color changes to navy (might have been in 1917). Pinstripes gone from home jersey as well. Elephant logo first appears on the sleeve.
1920
Elephant logo moves to the chest. Pinstripes return to home jersey. Caps are white with pinstripes.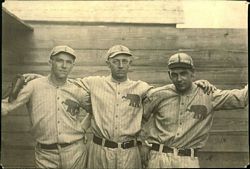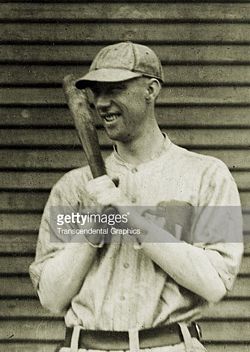 1921-23
The colorway changes to blue. The elephant is standing on its rear legs. Pinstripes gone in favor of placket piping. White home, blue road caps with pinstripes.
Spalding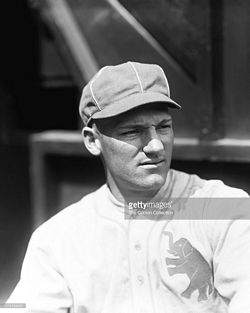 1924-27
The colorway returns to navy and the elephant is now white with navy trim.
Spalding
1928-30
The colorway goes back to blue, the "A" logo returns.
Spalding
1931-39
Numbers on back added. Road caps changed from grey to blue in 1931.
1939 marks the first commemorative sleeve patch to be worn by every Major League Baseball club—the Baseball Centennial patch. All 16 teams—along with Minor League teams—featured the centennial logo on their uniforms. The myth of Abner Doubleday's alleged invention of baseball in Cooperstown in 1839 has long been discredited, but the centennial celebration in 1939 featured a sophisticated and extensive marketing campaign. The official emblem featured a player that looked quite a bit like Yankees star Joe DiMaggio. Although this logo continued to be utilized throughout 1939, sleeve patches were redesigned at some point before the start of the season to incorporate a more generic batter figure. Sleeve patches also featured much larger "1839" and "1939" dates than those on the primary logo. For reasons that have never been fully explained, the Philadelphia Athletics were the only MLB club to wear a patch with the "DiMaggio" batter.
1940-49
Collar style changed, sleeve cuff trim added.
GoldSmith distributed by Mitchell & Ness
WWII patch worn 1943-44
MacGregor GoldSmith distributed by Mitchell & Ness
Rawlings
MacGregor GoldSmith Distributed by Mitchell & Ness
1950
In honor of Connie Mack's 50th year gold is added as an accent.
MacGregor GoldSmith Distributed by Mitchell & Ness
1951-52
As the Connie Mack era ends, the blue changes to midnight navy and a second serif is added to the logo. Both buttoned and zippered jerseys are used.
MacGregor GoldSmith
AL anniversary patch worn in 1951.
MacGregor Goldsmith jerseys are worn at the beginning of the 1952 season.
1952-53
Pearson
Sometime during 1952 (the earliest photos I've seen are July) the A's switch to Pearson jerseys. The navy is darker and the serifs on the "A" much sharper compared to MacGregor GoldSmith. Buttoned and zippered jerseys both used.
1954
In the A's final year in Philadelphia, navy blue turns a shade lighter, script replaces the "A" logo, red trim is added as an accent, lettering is chain knit.
MacGregor
After the 1954 season the Athletics relocate to Kansas City.