Kansas City Athletics Uniform History

---
In 1955 the Philadelphia Athletics relocated to Kansas City where they played until moving to Oakland after the 1967 season.
1955-60
The cursive "Athletics" remains but main/trim colors are reversed and the navy is darker. Elephant on a ball sleeve logo debuts. Cap logo now has a single serif.
Wilson (home), Rawlings (road)
New cap for 1960
1961
A one-year style. Second serif returns to the "A".
Wilson (home), Rawlings (road)
1962
The jerseys change to a sleeveless design in another one-year look.
Wilson
Home whites were worn two ways: with red undershirts/stirrups and a white crown/red visor cap; and with blue undershirts/stirrups and the blue crown/red visor cap.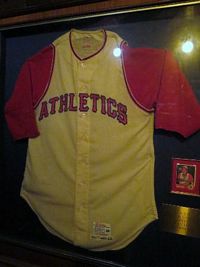 1963 Prototype
The Athletics became the first big league club to wear anything other than a white, gray, or light blue jersey since the Chicago White Sox sported dark blue uniforms in 1931, with gold and green jeresys, numbers on both sleeves, first names or nicknames on the back (which MLB blocked the following year), durene with satin inside. Charles Finley initially wanted to wear gold at home, white on the road but was granted permission to wear the same gold jersey home and away.
The first views of the jersey show "ATHLETICS' in arched block in the 1962 style. There were only a couple made, and although the jersey appears in the "Dressed to the Nines" database, these were prototypes and NOT worn in games.
1963
Wilson
This is the on field jersey.
1964
For 1964, Charles Finley said there would be 3 sets: white ("we'll wear them only when the weather's nice"); gold with kelly green/white trim; and a "sea foam" or "misty green", and the plan was "every other game we will change uniforms". The "A" is modified, the second serif dropped, NOB are gone, jerseys return to flannel. Worn with green undershirts with numbers on sleeves.
Tim McAuliffe (white, green mist), Wilson (gold)
This is the white jersey for "nice weather".
But there was a second white jersey with green lettering trimmed in gold, and I've seen player pics of both jerseys. Perhaps gold lettering was too hard to see on a white jersey so they switched to green lettering? Anyone know?
Here's the green mist jersey worn on the road.
1965
The white jersey no longer has gold lettering. From 1965 on the team mostly wears white at home, either gold or green mist on the road.
Tim McAuliffe (white, green mist), Wilson (gold)
1966-67
The green becomes a lighter shade.
Tim McAuliffe (white, green mist), Wilson (gold)
After the 1967 season the Athletics relocate to Oakland.