Philadelphia Athletics Caps History

---
Moved to Kansas City after the 1954 season.
1909-14
Made by ?
Eddie Plank's cap. At the time these caps were actually a "throwback" to the 1880's style! Home caps appear to have been white, road caps grey.
1915-16
A horizontal striped cap.
1917-28
Caps have piping on the seams and no logo. White worn at home, the away cap is navy 1917-19, white 1920, blue 1921-23, grey 1924-28.
1929-30
For the first time a logo appears on caps. Home caps are white, road caps grey.
Spalding
1931-41
A blue road cap debuts. Home caps remain white.
Spalding
This seems to be a white home cap. Note the trim around the "A" and a change in the serifs at bottom.
1942-47
The white cap is retired.
Spalding
In 1944 the logo became a sewn-on patch.
MacGregor Goldsmith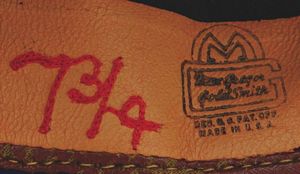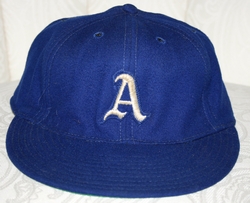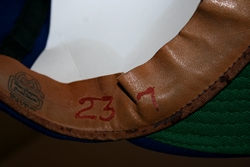 1948-49
Bottom left side of the "A" is curled in more. Spalding caps are made in Canada and distributed by Mitchell & Ness.
Mitchell & Ness/Spalding
Here's an 8-panel cap, common in the mid 1940's.
Spalding
Mitchell & Ness/Spalding
Back in the day distributors and manufacturers were competing hard for MLB business. This 1949 cap is the first Rawlings A's cap I've seen, and I'm unsure if it was actually used by the team.
Rawlings
1950
To honor 50 years of the American League and 50 year's of Connie Mack's tenure as manager the Athletics wear gold trim around the logo on the jerseys and caps.
Mitchell & Ness/MacGregor Goldsmith
1951
Roy and Earle Mack gain ownership control. The Athletics change from royal blue to navy, and add a second serif to the "A" insignia. Caps were made by the Leslie Company which introduced KM Pro in 1953.
1952-53
The serifs are lengthened.
Mitchell & Ness/Leslie
1954
For their final year in Philadelphia, drowning in red ink, the Athletics appropriately add red to the color scheme, trimming the logo in red and adding a red button.
Mitchell & Ness/KM Pro
After the 1954 season the Athletics relocate to Kansas City.