New York Yankees/Highlanders Uniform History 1903-1959
Click to view: 1960-1999 2000-present

---
You either love 'em or you hate 'em. There is no in between. But we all understand that they are The Most Collectable Team on the planet. The New York Yankees.
The Baltimore Orioles relocate to New York in 1903 and become the Highlanders. In 1913, the Highlanders become the Yankees. Here's the history, according to ultimateyankees.com: "When the American League moved the Baltimore Orioles to New York for the 1903 season, the club made its home at 168th Street and Broadway, one of the highest spots in Manhattan. The team would, therefore, be known as the "Highlanders" and their field "Hilltop Park." As early as 1905, however, the name "Yankees" began popping up in newspapers whose editors undoubtedly were searching for a shorter name for their headlines. By the time the franchise moved from decaying Hilltop Park to the Polo Grounds in 1913, it officially changed its name to the by then commonly-used 'New York Yankees.' "
New York Highlanders
1903-04
Home is white with navy NY across the front, road is navy with white NY.
1905
New style NY logo on left chest. Road jersey is now grey.
1906
NY in fancy block across chest. Road jersey returns to navy.
1907
"NY" style is block. Road jersey returns to grey.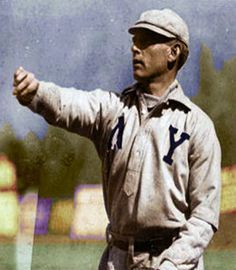 1908
Logo changed again.
1909-10
The familiar "NY" first appears, on the left sleeve.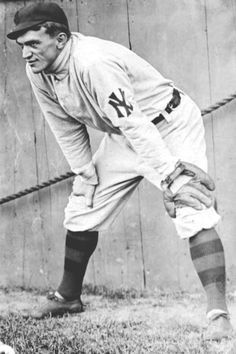 1911
Cap styles change. A second road jersey with "NEW YORK" across chest debuts.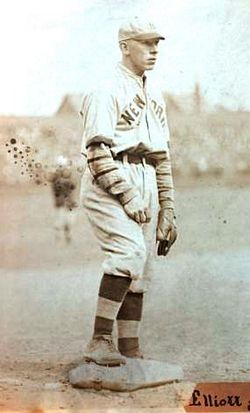 1912
The jersey as it is today begins to appear. Home pinstripes, road grey and a rather familiar NY on the left chest of both.
New York Yankees
1913-14
Home jersey loses the pinstripes, road grey gets NEW YORK across the chest in tuscan font.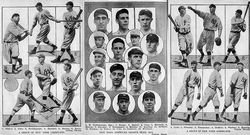 1915-16
Pinstripes return to home jersey, a red/blue pattern.
Spalding
1916-17
Logo removed from home jersey part way into 1916, and pinstripes are navy only. Road jerseys get navy pinstripes and font changes to block.
1918-26
Pinstripes removed from road jerseys.
In 1919 and 1921, the home cap was white with navy pinstripes.
Spalding
Here's the Ruth jersey Donruss cut up into pieces to put into their trading cards in 2004. I don't even know what to say about that.
1927-28
Road jerseys now have "YANKEES" across the chest. Home jerseys are unchanged.
Spalding
This 1927 jersey was made for the World Series and used into 1928.
Whereas the K in Yankees sits above the button on 1927 jerseys, the K sits on top of the button on 1928 road jerseys.
1929-30
Numbers appear on backs in 1929, one day after Cleveland debuted them.
Spalding
The number 9 is missing but the outline is visible.
1931-35
Road jersey wordmark reverts back to "NEW YORK".
Spalding
1936-37
NY logo added to home jersey.
Spalding
Showing a different jersey front and back for '36.
1938
White outline added on road jersey lettering. World's Fair patch is missing.
Spalding
1939-42
White outline dropped on road jersey lettering.
Spalding
Centennial patch missing from this 1939 shirt.
Spalding (home), Wilson (road)
Like many wartime jerseys, this 1941 shirt was recycled into 1942 with the Health sleeve patch added.
Spalding
And here are jerseys made in 1942.
Lettering restored here.
1943
Stars & Stripes patch worn 1943-45.
Wilson
A road jersey with lettering straight across, not arched, was also used in 1943.
1944-47
Note- a Health patch has been (wrongly) restored to this jersey - it should be a Stars & Stripes patch.
Spalding
Stars & Stripes patch is missing, probably jersey was re-used.
Wilson
1948
On home jerseys the "NY" logo is made taller.
Wilson
The two tops buttons are closer on this smaller-size jersey
1949-72
Rear number font is changed.
Spalding
In the World Series, the Yankees usually wore their new set from the upcoming season.
Spalding (home, road), Wilson (road)
A.L. 50th anniversary patch worn in 1951.
Wilson, Spalding
Yankees 50th year patch worn in 1952.
Nicely carried over from 1951.
Spalding
Tim McAuliffe and Spalding (home), Wilson (road)
1954 home jersey is used in the 1953 World Series
Spalding
Spalding (home), Wilson (road)