Kansas City Royals Uniform History 2007-present
Click to view: 1969-2006

---
2007
Black road alternate jersey goes away, blue is worn both home and road. Cool Base jerseys debut at home (2007) and road (2008).
Majestic
2008-11
White trim dropped from road and blue alternate jersey sleeve patch. Light blue alternate introduced as the home alternate, dark blue is now worn just on the road. Nameplates dropped.
Majestic
40th anniversary patch worn in 2009.
New powder blue-crowned cap introduced in 2010 for use with the light blue home alternate.
2012-13
Powder blue crown cap is dropped. White sleeve trim added to road jersey and the script revised (the dot over the "i" returns). Front lettering colors reversed on light blue alternate.
Majestic
All Star game patch worn in 2012.
2014-2015
Dark blue road alternate logo changed to "KC" with white/powder blue piping.
Majestic
2016
Flex Base jerseys debut. To celebrating their World Series win, a home jersey with gold lettering trimmed in blue is worn. But unlike other teams the Royals turn it into a regular (Friday) home alternate.
Majestic
World Series Champions patch worn in 2016.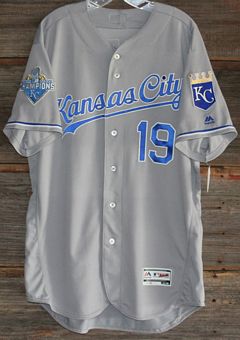 2017-present
The gold lettered home alternate gets some tweaking and becomes an official alternate and the cap has a gold logo.
Majestic