Boston Braves / Beaneaters / Doves / Rustlers / Bees Uniform History

---
The oldest continuously playing pro team (est. 1869), the team was first called the Red Stockings, then Red Caps, then Beaneaters in 1883, then Braves in 1912 as the owner at that time, James Gaffney, was a member of New York's Tammany Hall which had an Indian chief as its symbol. The Braves went bankrupt and were rescued by MLB in 1935. Babe Ruth retired as a Boston Brave in 1935. The new owners let reporters vote on a new name, and the team was called the Boston Bees in 1936-40. But the name was unpopular, so the Braves returned in 1941. Still, the team had trouble drawing fans and was moved to Milwaukee in 1953.
1905
Road grey changes to button-down.
Old red block lettering dye is faintly visible. Hope the new owner restores it.
Wright & Ditson
1906
Home changes to button-down, road grey front is now blank.
Boston Doves
1907
Old English "B" in red on home and navy on the road which is pinstriped.
1908
New home logo, a red "B". Red "BOSTON" across road grey.
1909
Both jerseys are blank on the front with a "B" logo on the sleeve.
1910
"BOSTON" in red across the chest of both jerseys. The road jersey returns to a laced collar, the last year those were worn in MLB.
Boston Rustlers
1911
Home white, road navy, blank front, english "B" on sleeve.
Boston Braves
1912
"BOSTON" in red block on front.
1913
Home white, navy with red pinstripes on road, block "B" in red block on left chest.
1914-15
Placket piping added to home jersey, worn into the 1915 season.
1915-20
A new set appears mid-1915. Home has fine pinstripes, road is solid grey with navy cap.
Placket piping is worn in one or more years and not others, but I don't know which.
1921-23
Horace Partridge
1924
Pinstripes added to home jersey.
1925-26
Logo modified on home jersey to something like the Brooklyn Dodgers 1950's logo. "Braves" across the road jersey chest, and pinstripes added.
NL Centennial patch worn in 1925.
1927-28
Home jersey changed to "Braves" across the chest, just like the road jersey. Caps are red.
Horace Partridge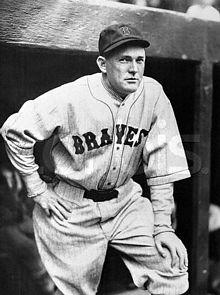 1929-30
A dramatic redesign worn with red pinstripe caps.
Horace Partridge
1930 jerseys feature a patch honoring Boston's tricentennial.
1931-33
Navy is added to the trim.
Horace Partridge
Number on back debuts.
Cap is red with white pinstripes.
Logo is added to the cap in 1932, which is still red.
Cap changes to white with red pinstripes, home and away.
1934-35
Accent color (undershirt, socks, cap) changes from red to navy. With a new manufacturer, the Indian head is a bit different.
Draper & Maynard
Home - Same as road jersey, but white
This one has a lot of history behind it. Sold at one point as Babe Ruth's last jersey, it was later attributed to Wally Berger in 1933-34. Since it has piping on the front it must be the 1934 style introduced late in the prior year as was a common practice then.
Boston Bees
1936
Horace Partridge
After a dreadful season and bankruptcy, it's new owners, a new name - Boston Bees - and a new look. Colors are royal blue and gold. Home caps (and stirrups) are yellow, road caps blue. Front lettering is blue with yellow trim, back numbers are reversed.
1937
Horace Partridge
Home jersey now has pinstripes and a yellow "B" trimmed in blue. Road jersey lettering colors are reversed, to yellow with blue trim. Yellow and blue caps may have been worn both home and road.
1938
Font changes and lettering is back to blue with yellow trim. Looks like the yellow cap is dropped.
Horace Partridge
1939
A radical change in 1939 to red and blue. Same look in grey on the road.
Horace Partridge
Baseball Centennial patch worn in 1939.
1940
New look again. The cap is navy with a red visor and block "B".
Horace Partridge
Boston Braves
1941-44
The team's name becomes the Braves again. Home jersey is unchanged, "BOSTON" changes to script on road shirts. Cap logo changed to Old English "B".
Health patch worn in 1942.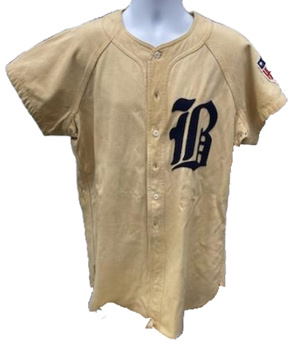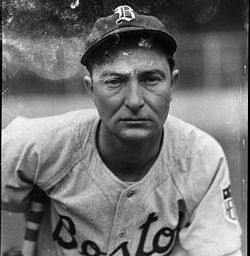 Cap logo changes to a block "B" in 1943.
1945
Sleeve patch added. Home shirts change to pinstripes with "Braves" on the front.
Horace Partridge
1946-48
A radical new design that sticks. Jerseys get zippers. The Braves use satin jerseys (button-down) for night home games 1946-48 (first game was May 11, 1946 - see NY Times article on May 12).
Horace Partridge
Both Horace Partridge tags are seen in 1946, the dark tag from early in the season and the new white one.
Cap logo is simplified to a block "B" by the 1947 season.
Horace Partridge
1949
Satin jersey dropped.
Horace Partridge
1950
Front piping gets shorter.
Horace Partridge
1951
Horace Partridge
N.L. 75th year sleeve patch worn in 1951 and the Indian patch is moved to the right.
1952
Buttons replace zippers, front piping gets narrower (I'm not sure if this was standard for 1952 or if players could choose.) Indian head goes back to the left sleeve.
Horace Partridge
After the 1952 season the Braves relocate to Milwaukee.