Boston Braves / Beaneaters / Doves / Rustlers / Bees Caps History

---
Moved to Milwaukee in 1953.
1929-31
Red cap with white pinstripes.
1932
Cap is red.
1933
Cap is white with red pinstripes.
1934-35
Spalding
The new Brave's logo looks a lot like the Dodgers.
1936-37
The team becomes the Boston Bees. Home caps are yellow, road caps blue. Boy would I love to see one of those yellow caps.
Horace Partridge/Spalding
1938
Logo is modified slightly.
Horace Partridge/Spalding
1939
Colors change to red and blue, same logo is used.
Horace Partridge/Spalding
1940
In the Bees final year, the cap is navy with a red visor and block "B" - the same style used throughout most of the rest of the team's history as the Braves.
1941-42
The team's name becomes the Braves again. Cap is navy with Old English "B". Though Dressed to the Nines shows a block "B" road cap, looks like the Old English style was used on the road, as this is a 1942 photo.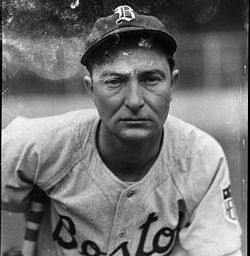 1943-45
Navy cap with a block "B" home and road.
1946-47?
The cap becomes navy and red again. If anyone can pinpoint these dates, let me know!
Spalding
1947?-52
The logo changes to a block "B".
Wilson
Tim McAuliffe/KM Pro
McAuliffe caps are also used starting in 1948 (anyone have one)?
Wilson
After the 1952 season the Braves relocate to Milwaukee.