Toronto Blue Jays Caps History

---
1977 expansion brought MLB to Canada'a largest city. The team has worn New Era exclusively since its inception.
1976-77 Retail
The Jays are only the second MLB team (besides Baltimore) using a logo with no letters on its cap.
The first caps that went on sale to the public in 1976 were wool as shown here.
New Era
1977
The first on-field caps are wool with nylon white front panels. Here's Jim Clancy's cap.
New Era
1978
In 1978, caps switched to all nylon, like this one from coach Jackie Moore.
New Era
1979-88
Grey underbrims appear in 1979.
New Era
1989
A solid blue nylon road cap is introduced in 1989.
New Era
Nylon road caps also have green undervisors.
1990
A very subtle change, the light blue color gets a shade darker (see the feathers on the bird's head), but only on the home cap which changes from all-nylon to wool with a white nylon front panel. Road cap changes to all-wool. Undervisors return to green.
New Era
1991-92
The light blue color gets a shade darker (see the feathers on the bird's head) on the road cap as well now.
New Era
The MLB logo debuts on cap backs in 1992. Early in the season, it was glued onto caps that had already been made.
By mid-season 1992 the MLB logo was embroidered in a single team color.
By the late season 1992 the MLB tag is embroided in dual team colors.
1993
Once again, the colors get a tad darker. Especially the bird's feathers which are now turquiose blue.
New Era
White front caps were worn at home only until July 1. The Jays were playing poorly and decided to try the all-blue caps at home, started playing better, won another World Series, and never used white front caps again.
1994-96
Undervisors return to grey in 1994 and the white front cap is officially retired.
New Era
1997-2002
The Jays redesign jerseys and caps. Logo embroidery is raised a bit.
New Era
2003
The Jays use their former batting practice caps for all of 2003.
New Era
2004
The Toronto Grey and Black Jays debut in 2004 with grey caps for home, black for the road. The new logo is a mad bird sneaking out from behind the letter "J". Pictures show they wore black undervisors in 2004. Anyone have a 2004 black cap? It will have the same tags.
New Era
2005
Undervisors return to grey as seen in pics from that season.
New Era
2006
Grey cap is retired.
New Era
2007
Polyester caps replace wool, and the undervisor returns to black. An alternate "T" logo cap introduced - looks a lot like... an ocean wave to me.
New Era
2008-10
The Jays wear throwback powder blue road jerseys on Fridays and introduce an alternate cap.
New Era
2011
The throwback alternate is dropped.
New Era
2012-13
Highly popular return to an updated traditional look.
New Era
2014
Red BP cap used with home and alternate jerseys a couple times.
New Era
2015-16
Red BP cap not used with regular jerseys. White front panel cap announced to great fanfare but is worn just once each in 2015 and 2016.
New Era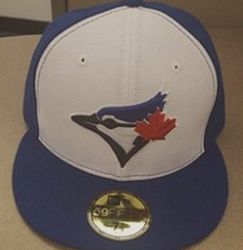 40th anniversary patch on the 2016 alternate
2017-present
Red cap added for celebrating the 150th anniversary of Canada's Confederation.
New Era