St. Louis Browns Uniform History

---
The team originated as the Milwaukee Brewers, moving to St. Louis in 1902. The Browns moved to Baltimore following the 1953 season.
1902
Black white home, grey road with St.L. Brown caps.
1903
St.L get a bit bigger.
1904
St.L added to home jersey, and gets a bit smaller on road jerseys. "St. Louis" road jerseys used as well.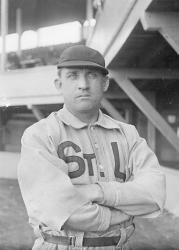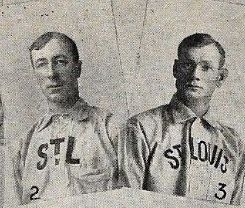 1905
Smaller St.L on home jersey, "St. Louis" jersey worn on the road. There's also a dark alternate. Home cap turns white.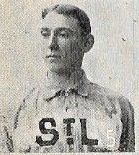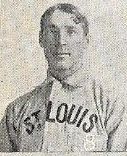 1906
Plain white home and grey road shirts with St.L in a diamond on the sleeves. Pockets added. Trim on placket and around pocket. Caps now white with pinstripes. Alternate dropped.
1907
Collar flaps turn brown. Brown background added to sleve patch.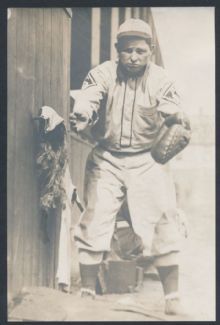 1908
Logo moves to left chest of home shirt. Road now has tuscan St. Louis. Fleur-de-lis sleeve patches and cap logos. Collar flaps return to white or grey. Road cap is brown with pinstripes.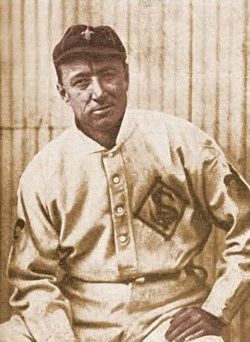 1909
Home insignia St.L now straight across.
1910
Fine pinstripes added to road jersey, road cap turns grey.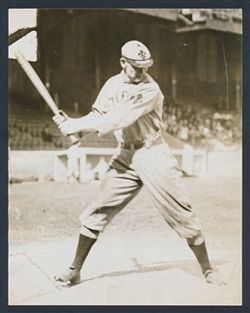 1911-14
New StL insignia on home jersey, St. Louis now block letters on road grey. Brown collars, flaps are dropped. White home, grey road caps with pinstripes.
1915
St. Louis in block on home and road shirts. "t" underscore changes to a dot. Brown collars dropped.
1916-23
Home white, placket piping, sleeve logo, white cap. Grey road, placket piping, St. Louis in tuscan, grey cap.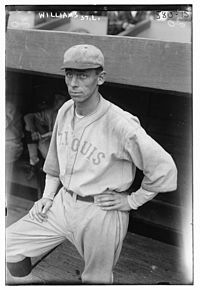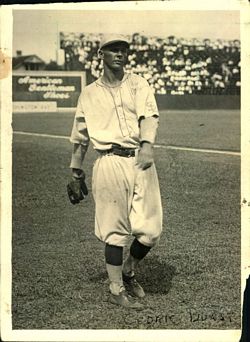 1924-28
Sleeve cuff trim added on road jersey.
Rawlings distributed by Leacock
Road cap changes to brown with pinstripes in 1925.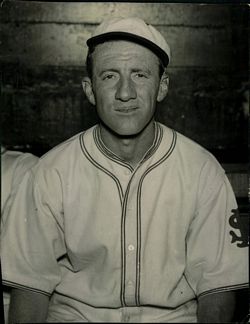 Road cap back to grey in 1926.
Logo added to road cap in 1927.
1929-30
Sleeves shortened, sleeve cuff trim added to home jersey. Pinstripes added to road cap.
1931-33
Numbers on jersey backs adopted in 1931.
Spalding (home), Rawlings (road)
1934
"BROWNS" arched across the home jersey chest. Gold lettering trim added. A line under the T on the road jersey replaces the dot. Caps are brown with a new logo.
Spalding
A 1939 cap is wrongly perched on this jersey, correct cap is shown at right.
1935-36
Placket piping removed from home jersey.
Horace Partridge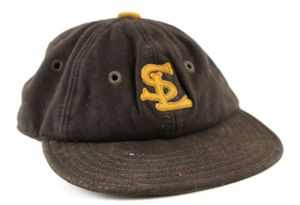 1937
The Crusader sleeve patch appears. The crusader depicted on the patch is Saint Louis IX, who was the King of France from 1226 through 1270, and after whom the city of St. Louis is named. The statue in front of the Saint Louis Art Museum in Forest Park was the basis for the design. The period after ST is removed on road jerseys. It seems the Browns wore two sets of jerseys in 1937. The first set had brown on gold lettering. the next set had the lettering switched to gold on brown.
1938
Lettering flips back to brown with gold trim. Single placket piping.
Rawlings
1939
Orange replaces gold as trim color. Thick placket piping and shoulder stripes. Lettering is machine chenille embroidered in 1939 and 1940 which faded in sunlight. Zippers debut.
Rawlings
In 1939, worn with a brown cap with orange piping and a new insignia.
Every MLB team wore the Baseball Centennial anniversary patch in 1939 on their left sleeves — with the exception of the Browns. St. Louis' jerseys already featured their primary logo on their left sleeves, so the centennial patch went on the right sleeve. Additionally, they opted to frame the logo in an orange and brown rectangle, matching their unique sleeve and placket trim.
1940
Orange trim around the collar and placket is widened slightly. Cap changes to white home, grey road with orange/brown striping.
Rawlings
1941-43
Crusader sleeve patch dropped, lettering returns to felt.
Rawlings
This 1941 jersey had the patch added for reuse in 1942.
Health sleeve patch worn in 1942.
War sleeve patch worn 1943-45.
1944-45
Buttons return.
Rawlings
1946-51
Front piping is simplified. Zippers are back. "BROWNS" on both home and road shirts. Logo returns on caps.
Rawlings
New cap for 1950.
AL 50th anniversary sleeve patch worn in 1951. Cap has orange visor, button and vents.
1952-53
Buttons return, cursive script, elf patch debuts. Plain brown cap, white logo.
Rawlings
The cap with the orange logo was used during 1952 spring training but I don't think it was worn during the season.
This is compiled from two different jerseys.
1953 jerseys were generally recycled into 1954 Orioles spring training shirts. Anyone have an original 1953?
After the 1953 season the Browns relocate to Baltimore.