San Diego Padres Uniform History 2002-present
Click to view: 1969-2001

---
2002-03
Pinstriped alternate home jersey is dropped.
Russell Athletic (home, road, alternate), Majestic (camo alternate)
2004-05
The Padres change things up yet again, with a new home, road and alternate set.
Majestic
The camo jersey is worn with a retail New Era cap with the flag on the side.
2006
The camo jersey changes, but remains an unofficial jersey.
Majestic
2007-10
Tan is added to the underline on the home jersey script, matching the lettering. Cool Base jerseys debut in 2007 (home) and 2008 (road).
Majestic
Camo jersey becomes an official Sunday alternate in 2008.
40th anniversary patch worn in 2009.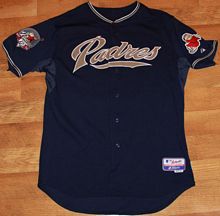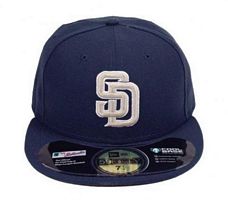 The Padres wear one of three throwbacks (not shown) on six Thursdays in 2010, selected by fan voting.
2011
Road jersey changes from sand to grey. White logo cap now used with road greys. Camo jersey changed.
Majestic
2012-14
On home jersey, white outline dropped, NOB gets gold trim. Road jersey lettering style changes. New navy alternate jersey introduced. Piping added, sleeve trim altered, number font and sleeve patches changed on all jerseys.
Majestic
2015
The 1985-90 home jersey added as a home alternate for some Wednesday nights.
Majestic
2016
Flex Base jerseys debut. The Padres introduce a new home jersey and cap, a new alternate retro home jersey and taco bell cap for Fridays, and a new Sunday marine camo alternate. The pinstriped home alternate and road jersey remain, the previous camo jersey is also used a couple times, the blue jersey becomes a road-only alternate.
Really not sure where they are going with this mish mash set of jerseys.
Majestic
All Star Game patch worn on home white, road, and blue road alternate in 2016.
2017-present
The Padres introduce a new jersey set to great anticipation, yet somehow make things worse. Yellow is dropped from the home jersey and cap. The lettering is now "Padres" in block slanting downward - seemingly the intent is to match last year's road jersey? But no. Instead, road jersey lettering goes away from the downwad slant and returns to the 2011 look. "SD" sleeve logo is added on home. road, alternate.
I'll just paste my comment on last year's set: Really not sure where they are going with this mish mash set of jerseys.
Majestic