Milwaukee Brewers Uniform History 2000-present
Click to view: 1970-1999

---
2000-05
Jersey is completely redesigned. New home road and alternate.
Majestic
Home to Heroes patch worn 2001.
All Star game patch worn 2002.
2006
A new home alternate, based on the 1978-89 pullover but with buttons, is introduced for Sunday home games, along with the "Mb" glove cap.
Majestic
2007-09
Cool Base jerseys debut at home (2007) and road (2008). I believe the pinstriped jersey remains double knit.
Majestic
1982 NL pennant silver anniversary patch worn on throwbacks in 2007.
2010-12
A new navy road alternate with "Milwaukee" in script is introduced, as the original navy alternate is now worn at home only.
Majestic
40th anniversary patch worn 2010.
2013
A gold alternate, worn home and road, is jersey #6 (not counting Spanish & throwback models) joins the set. I need a website just for the Brewers.
Majestic
2014
Desperately needing still more jerseys, the ball-and-glove BP jersey gets use twice at home. The gold jersey is worn only at home. And the pinstriped throwback is even used once on the road.
Majestic
Used once on the road as well.
Worn at home 2 times.
2015
The ball-and-glove BP jersey isn't used, but the "M" logoed BP jersey is worn at home one game.
Majestic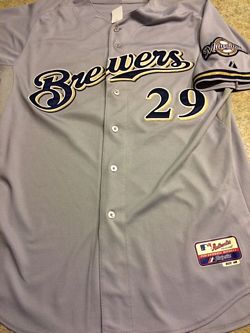 2016-present
Flex Base jersey system debuts. The navy "Milwaukee" alternate becomes the main jersey worn home and road, and the sleeve patch changes to the ball and glove. A powder blue throwback is added. The BP jersey returns to the ball & glove logo and is used a few times. A new alternate navy ball-and-glove cap is added. The yellow home alternate is dropped.
Majestic