Chicago White Sox Uniform History 1901-1975
Click to view: 1976-1998 1999-present

---
1901
Home white, road grey with "C" insignia.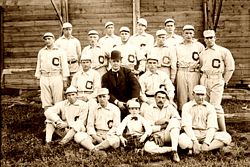 1902
Road jersey changes to navy with "CHICAGO" in arched tuscan font.
1903
Home jersey "C" is stylized. Road cap now grey with pinstripes.
1904
Home jersey "C" widened.
1905
Home jersey "C" changed slightly.
1906-08
Home jersey "C" now rounded.
World Champions sleeve patch worn on 1907 road jersey.
1909
Home jersey logo moved to sleeve.
1910-11
Logo dropped from home shirt sleeve. During 1910, a new home jersey debuts with "SOX" down the placket.
1912-13
Home jersey gets thin pinstripes and the big "S" logo on chest.
Road cap changes to solid navy in 1913
1914
Home jersey pinstripes spaced more. "WS" added to road shirt collar. Pinstripes added to road cap.
1915-16
"WS" gone from road shirt collar.
1916-17
Pinstriped road jersey replaces navy during 1916. In 1917 the home jersey gets placket piping and "Sox" on the cap. US flags are added to jersey sleeves.
Set of patriotic jerseys issued for the 1917 World Series. Road is navy with white pinstripes.
Wilson
1918
Home jersey is plain white, road plain grey. Little white socks adorn the home logo.
Wilson
The HOF database shows socks on the road logo but this is a 1918 road jersey and it doesn't have socks and I do not believe logo was restored.
1919
Logo gets thinner. Plain white home, alternate pinstripes home, and grey road.
Wilson
1919-20
Another pinstriped home jersey with socks sleeve patch is introduced for the infamous 1919 World Series, and those same jerseys are used for the 1920 season. The road jersey is unchanged from 1919.
Wilson
1921-24
Pinstripes dropped from home jerseys. Logo gets thicker.
1925
The cream home jersey stays. Navy with white pinstripes on the road.
1926
The cream home jersey stays. Solid navy road jersey.
1927-28
Home jersey now has buttons all down the front. Road jersey is grey pinstriped with "CHICAGO" in arched block on chest
1929
Road jersey now solid grey. Home cap is solid navy, road cap has "Sox" logo.
1930
New home jersey worn with "sox" logo cap. Road jersey now solid navy with pinstriped cap.
Wilson
1931
Numbers on back debut in 1931.
Wilson
1932
A brand new look (same home and road as 1933-35 below) plus this special World Series home jersey. Home cap is solid navy, road cap has the "Sox" logo.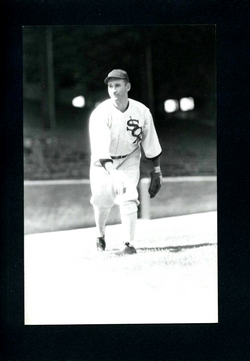 1933-35
Wilson
The 1932 World Series jersey is not reused. The road cap logo changes to a tuscan "C".
This jersey is interesting since the back number was originally a "2", but it has been reversed and turned upside down, probably for reuse
Spalding
1936-38
New home jersey design, while road stay the same. Navy cap with "C" logo now used home and road.
Spalding
Zippers debuted on road jerseys during 1937.
Spalding
Zippers first appeared on home jerseys late in 1938.
1939 marks the first commemorative sleeve patch to be worn by every Major League Baseball club—the Baseball Centennial patch. The official emblem featured a player that looked quite a bit like Yankees star Joe DiMaggio. Although this logo continued to be utilized throughout 1939, sleeve patches were redesigned at some point before the start of the season to incorporate a more generic batter figure. Sleeve patches also featured much larger "1839" and "1939" dates than those on the primary logo. Here is a 1938 jersey with the "DiMaggio" patch. It was likely added to this 1938 jersey for 1939 spring training or sewn on later.
1939-40
Spalding
New jersey design. Cap logo changes to block "C".
1941
GoldSmith
Front piping is thinner and further apart. Red outline added around numbers on back.
1942
"White Sox" script replaces the Sox logo on home jerseys for one season only.
HEALTH sleeve patch worn in 1942.
1943-44
Home jersey reverts to 1941 look.
Stars & Stripes war patch worn 1943-48.
GoldSmith
1945-46
GoldSmith
Shoulder racing stripes dropped. The 1945 jersey was used part-way into 1946.
1946-48
In mid-1946, the "Sox" logo on home jerseys is made smaller.
MacGregor GoldSmith
The war patch was worn into 1947.
Though most jerseys sported zippers some players chose to wear buttons.
1949-50
Spalding
Navy is dropped in favor of black. Cap logo is a tuscan "C".
1949 roads were similiar to the 1950 style below but had a thinner wordmark
Wilson
This 1951 anniversary patch added in late 1950 or for reuse in 1951.
1951
Wilson
Pinstripes added to home jersey and red accent added. The black changes slightly to "midnight navy" as it has a tinge of blue. As the color fades over time, it appears more navy than black. Cap logo changed to "SOX".
MacGregor GoldSmith
1952-54
Wilson
New cap logo
1954
During 1954, buttons replaced zippers, allowing "CHICAGO" to be more centered. Home pinstripes are blue rather than midnight navy.
Wilson (home), MacGregor (road)
1955-57
Tim McAuliffe
Roads lose the red trim in 1955, or possibly in late 1954.
Wilson (home), MacGregor (road)
Team uses Spalding caps with a a wider squared logo, in addition to McAullife. Logos interlock/overlay differently. See cap section for more.
Caps are Spalding plus two versions of McAuliffe, all have different logo designs. See caps section for more.
1958-59
Wilson (home), MacGregor (road)
Sleeve numbers added.
Wilson
Cap logo tweaked slightly, now X overlaps O.
1960
Names on back added to road jerseys only.
Wilson
1961-63
Names on back added to home jerseys as well.
Wilson (home), MacGregor (road)
Wilson
Different jerseys here to show NOB.
Road cap with plain white logo appears in 1963.
1964-66
New owners make changes. Red trim is dropped from the home jerseys. Road jerseys are light blue, intended to show up better on black & white TV.
Wilson (home), MacGregor (road)
Reused from prior year.
1967-68
Numbers move from sleeve to front. Road jersey front changed to script. No idea why, but it might be my favorite jersey of all.
Wilson (home), MacGregor (road)
Wilson
1969-70
Colorway changed to royal blue from navy. Pinstripes removed from home jersey in favor of placket piping with sleeve trim. Road jersey changes to blue-grey and the script to white with navy outline and sleeve trim is added. Cap logo changed again.
Wilson
1971
Now the White Sox are red Sox. Jerseys are still flannel in 1971. Pinstripes, sleeve numbers and zippers return. Names on back are gone.
Wilson
1972-75
The style stays as the fabric changes to double knit polyester.
Wilson