Cleveland Indians / Naps Uniform History 1901-1971
Click to view: 1972-2001 2002-present

---
Cleveland's nickname was Blues in 1901, Broncos in 1902, and Naps 1903-14 before settling on Indians in 1915 in tribute to Louis Sockalexis, a popular player in the 1890's who was the first Native American to play Major League baseball.
Cleveland Blues
1901
"CLEVELAND" across the front of both jerseys.
Cleveland Broncos
1902
"C" on left chest of both jerseys. Road changes to navy.
Cleveland Naps
The team is nicknamed Naps from 1903-14 after star player Nap Lajoie.
1903
Introduced in late 1902, road jersey now has "CLEVELAND" across chest.
1904
Road jersey unchanged, home jersey is now blank with red collar.
1905-07
Home - white with a script "C" logo. Road - grey with Cleveland across the front similar to the 1909 jersey below.
1908
Home - white with a script "C" logo. Pinstripes are added to the road jersey, and the lettering size reduced. The collar was blue in 1908.
1909
Home - white with a script "C" logo. Road jersey collar is grey in 1909.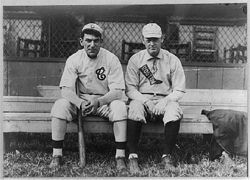 The lettering on this one is restored.
Unknown Manufacturer
1910-12
Home jersey logo changes from script to block. Road jersey changes to solid grey.
Unknown Manufacturer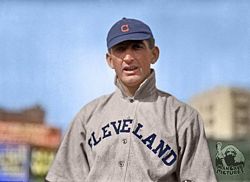 1913-14
Wide collars gone.
Cleveland Indians
1915
The nicknames changes to Indians. Pinstripes added to both jerseys.
1916
The Indians are the first to wear numbers - for one season, on the home shirt sleeve.
1917-18
Numbers removed from sleeve. Pinstripes added to caps.
1919-20
Pinstripes dropped from road jerseys.
1920 World Series
The teams wears its planned 1921 home and road jerseys without pinstripes for the 1920 World Series.
1921
Having won the 1920 World Series, the team replaces its logo with "Worlds Champions" on the front.
1922-23
Home jerseys have a stylized C.
Armband for club president Jim Dunn in 1922.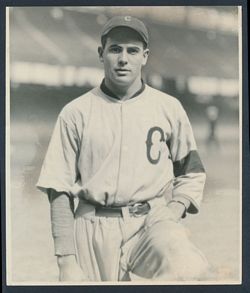 1924-27
Home jersey stylized C grows a bit bigger. Piping added to road jersey.
1927-28
A new new home style, it likely debuted during the 1927 season, common practice at the time.
Spalding
1929-32
Cleveland was the first team (by one day due to a Yankees rainout) to put numbers on jersey backs in 1929. Home jersey has a block C logo with Indian chief sleeve patch. Road gets pinstripes.
1933-34
Home logo changes to a wishbone C and the collar and placket is solid red.
1935
Road placket piping changes from a single piping to triple blue-white-blue.
1936-38
Solid red is removed from the home jersey placket, road jersey is unchanged. Cap logo becomes a thick wishbone "C".
Sleeve piping has been cut off and Indian patch removed from this 1937 home jersey.
This 1938 jersey had the "C" and Indian chief sleeve patch removed and went to the minors. The "C" has been restored and a "Di Maggio" centennial patch added - see below for more on the sleeve patch.
1939-41
Indian logo dropped from home jersey sleeve. Road jersey pinstripes dropped, font becomes block.
Spalding
1939 marks the first commemorative sleeve patch to be worn by every Major League Baseball club—the Baseball Centennial patch. All 16 teams—along with Minor League teams—featured the centennial logo on their uniforms. The myth of Abner Doubleday's alleged invention of baseball in Cooperstown in 1839 has long been discredited, but the centennial celebration in 1939 featured a sophisticated and extensive marketing campaign. The official emblem featured a player that looked quite a bit like Yankees star Joe DiMaggio. Although this logo continued to be utilized throughout 1939, sleeve patches were redesigned before the start of the season to incorporate a more generic batter figure. Sleeve patches also featured much larger "1839" and "1939" dates than those on the primary logo. The "Di Maggio" sleeve patches were worn in spring training and in all likelihood on at least some jerseys during the season.
The sleeve patch on this jersey was restored (incorrectly) with the "Di Maggio" patch, you can clearly see the outline of the original patch..
1942-43
Piping added to front of road jersey, red trim added to lettering
1944-45
Lettering on road jersey reversed to red with blue trim
Stars & Stripes patch worn 1943-45.
1946
Home jersey now has "Indians" in script. Road jersey nearly unchanged other than sleeve trim.
Cleveland 150th anniversary sleeve patch.
1947-50
To accompany the new jersey design owner Bill Veeck commissions a 17-year-old draftsman to create a sleeve patch logo eventually nicknamed Chief Wahoo.
Wilson (home), MacGregor GoldSmith (home, road)
This unworn jersey is from 1950 Set 1 (sleeve patch was removed). The team changed their look in 1950 and I don't know if they did so before the season started or in mid-year - anyone know?
MacGregor GoldSmith
1950-57
A new look for 1950, but not sure if it happened at the start of the season or mid-year. Chief Wahoo is also redesigned.
Wilson (home), MacGregor GoldSmith (road)
AL Golden anniversary patch worn in 1951.
Cap logo added Chief Wahoo in 1954.
Wilson
1958
New design.
Wilson (home), MacGregor (road)
1959-62
Numbers on sleeves appear in 1959.
Wilson (home), MacGregor (road)
Chief Wahoo reappears on caps just for 1962.
1963-64
Zippered sleeveless vests worn with red sleeves.
Wilson (home), MacGregor (road)
1965
Lettering and caps change from navy to red.
Wilson (home), MacGregor (road)
1966-69
Names on back added.
Wilson (home), MacGregor (road)
Wilson (home), Rawlings (road)
MLB 100th Anniversary patch worn in 1969.
1970
One year style. No NOB. Cap goes back to navy.
Wilson (home), Spalding (road)
1971
Script is simplified in another one year look.
Wilson (home), Spalding (road)