Cincinnati Reds / Cincinnati Red Stockings / Cincinnati Redlegs Caps History

---
1926-29
Robert Edwards sold this as a Cubs cap; wrong-o, it's Reds. The HOF database shows a red stripe at the base of the crown but I don't see it in period photos.
Spalding
1930-31
Home cap pictured. Road cap was grey without pinstripes.
Spalding
1932-33
The C becomes more of a block and is trimmed in navy. Pinstripes dropped from home cap.
1934-36
Caps get the wishbone C for the first time. Home caps are white with red bill, red C outlined in navy. In 1934 the bill is navy, in 1935 it becomes red.
GoldSmith
This is Chick Hafey's with his glasses bolted on
1937-46
GoldSmith
Soft, flexible brims on these older caps.
1947-53
Caps became all navy, and a bit darker in shade, in 1947.
MacGregor GoldSmith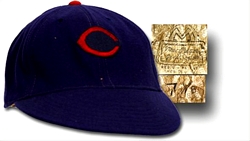 Teams from little league to pro were experimenting with satin jerseys and caps. The Reds (like the Dodgers, Braves, Cards) tried it out for some games in 1947 & 48. Unlike other teams though, the Reds also tried out satin caps.
Logos were often embroidered onto a patch in the late 40's-early 50's
Wilson
1954-55
Though references show this style as 1955 only, it was worn 1954-55. Both McAuliffe and Wilson were used, probably player preference. The logo shape difference is quite noticeable.
Tim McAuliffe/KM Pro
These look nearly the same as the Indians 1958-61 and 63-64 caps but Reds C is a bit smaller and white trim less wide.
Wilson
1956
A one year style. As before both Wilson and McAuliffe caps were used, and the logo is shaped a bit different on each. A "Mr. Red" logo cap was never worn as one of today's throwback cap makers would have you believe. I'm looking for one like this.
Tim McAuliffe/KM Pro
Wilson
1957-58
Home cap has a white crown, the road cap is grey. Note that the logo is NOT trimmed in navy as a popular throwback capmaker wants you to believe.
Wilson
1959
Wilson
Stripes are added to the home cap, while the grey road cap remains the same.
1960
White outline added around logo on home cap. Grey road cap remains the same.
Wilson
1961-66
The C becomes rounded and navy trim is added. Stripes are worn at home, the road cap is grey. Both Wilson and New Era caps are used. The name Reds returns on home jerseys, and the team officially changes it back to Reds in 1962.
Wilson and New Era
1967-68
The famous red cap returns, similar to the 1956 model but with a thicker C and a red button.
Wilson
1969
The Reds use KM Pro caps with a "C" logo that is more open.
KM Pro
1969-74
The Reds return to Wilson caps with a more closed "C" logo.
Wilson
In 1969 the Reds had become the first team to introduce grey underbrims, I believe it was only on the Wilson caps. Few players wear grey at first but by the early 1970's most do.
New Era
1975
The Reds wear KM Pro caps again in 1975-76, and some players continued to use KM Pro into 1977. The C logo is more open at the tips.
KM Pro
1976
A white (NOT red) New Era pillbox cap is worn a couple times to celebrate the baseball centennial (anyone have one?).
KM Pro
1977-84
With New Era no longer making caps for Wilson, and KM Pro gone, the Reds use New Era caps.
New Era
1985-88
Sports Specialties caps worn 1985-1988 had both green and grey undervisors.
Sports Specialties
Caps with MacGregor labels are from late 1986 or 1987; MacGregor bought the company in 86 and sold it in 87.
Diamond collection labels appeared later in 1988.
1989
Sports Specialties 1989 caps had a new tag and grey-only undervisors. This cap sold on eBay recently as a Pete Rose 1985 cap because it has 1985 written on the visor (1985 being the year he broke Ty Cobb's all time hit record). Trouble is this is a 1989 cap!! Someone got taken for a ride big time. Just because someone writes something on a cap doesn't make it true.
Sports Specialties
1990-91
New Era
The C becomes a little thinner.
1992
The MLB logo is glued on the back in 1992, and is embroidered on by the end of 1992.
New Era
1993-1998
Reds owner Marge Schott wanted jerseys and a cap reminiscent of her 1950's youth, so the Reds go to pinstripes and a sleeveless home jersey with a white striped cap. The red cap continues to be worn on the road. On-field caps are pure white nylon (forget that the tag says "WOOL", it's nylon). In the hot summer on artificial turf, color would bleed up from the red visor, turning the nylon caps pink. Retail caps are cream-colored wool.
New Era
---
First off, here's the RETAIL ONLY version. NOT WORN ON FIELD! It's cream colored wool. Don't get fooled by eBay sellers!
---
These are the on-field caps.
Raised embroidery appears in 1996.
1999-2006
In 1999, the Reds redesign their jerseys and add black to the color scheme and drop shadows to the logo. Red caps with black visors are worn at home, black/red visor on the road, and all-red as a Sunday home alternate.
New Era
2007-09
In 2007 the all-red cap returns as the home cap. The red crown/black visor former home cap becomes the road cap. The black cap is now the alternate. Caps change to polyester with black undervisors.
2010-12
The black cap is retired after 2009.
New Era
2013
Red color is made one shade darker. I suppose you can see a difference. BP cap used a couple times with red jersey.
New Era
2014-present
Camo cap (& jersey) is made official. Black cap made an official alternate again but isn't worn on field. BP cap no longer used.
New Era