Boston Americans / Boston Red Sox Uniform History 1901-1967
Click to view: 1968-2002 2003-present

---
Boston Americans
1901
From 1901 to 1907 the team was nicknamed the Americans and the color was blue.
Same as 1903-07 jerseys below.
1902
Old English B on the right chest, A on the left.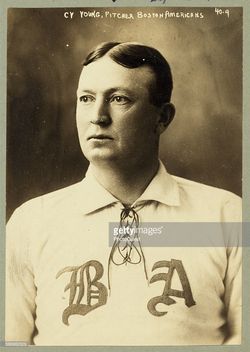 1903-07
Probably Wright & Ditson
Boston Red Sox
1908
The nickname becomes Red Sox and the color changes to red.
Wright & Ditson
This jersey that once appeared in the HOF is authentic but not Cy Young's.
The crest was restored on this road jersey.
1909-10
Home & road jerseys have front laces and "BOSTON" in red block. Very likely the same set for 1909 and into 1910.
Wright & Ditson
1910-11
Sometime in 1910, jerseys change to button-down.
Wright & Ditson
1912
The team starts the season with solid white home and grey pinstripe road jerseys, both with "RED SOX" in block.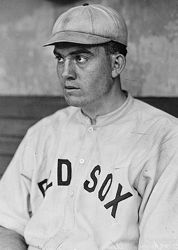 1912-15
During 1912 the team changes to blank pinstripes at home and a plain road grey jersey with "RED SOX" in block. Thanks to extensive research by Dave Grob it appears likely the Red Sox wore both Partridge and Spalding jerseys.
Horace Partridge, Spalding
1915-18
Pinstripes are removed from the home jersey during 1915, and are added to the road jersey and cap in 1915.
Horace Partridge
1919-20
Pinstripes removed from both jerseys.
1921
Pinstripes added to both jerseys. New pinstriped caps with red visor.
Wright & Ditson
1922
Tuscan font on road jersey.
1923
Block font returns on road jersey.
1924-26
Pinstripes removed from home jersey.
1927-28
Pinstripes added to home jersey. Bill Carrigan, returning as manager, specified the team add pinstripes which they had worn when he previously managed in 1913-16 with back to back WS triumphs in 1915-16.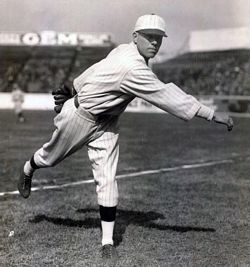 1929
Pinstripes removed from home jersey.
1930
Pinstripes return to home jersey. Road jersey font changes to tuscan.
Boston's 1630-1930 Tricentennial sleeve patch worn in 1930.
1931
Lettering returns to the front of the home jersey and numbers appear on jersey backs for the first time. Red socks sleeve patch added. Home white and road grey caps have a sock logo.
Horace Partridge
1932
Caps have no logo. Front lettering changed to what was termed "special fancy". Back numerals are detachable, using concealed lacing (see http://haulsofshame.com/blog/?p=3376). In 1931, if the jersey didn't make it back from the cleaners, the player had to wear a shirt with a different number...
Horace Partridge
Road - same style in grey
1933
Placket piping added, font changed on both jerseys to tuscan. Caps turn to navy with a block "B".
1934
Name on road jersey changed to BOSTON in navy with red trim. Font changed again.
1935
Piping removed on both jerseys. Outline trim removed from lettering. "BOSTON" shifts to the right on road jersey. Font is block on road jersey.
Spalding
1936-37
Placket piping returns to both jerseys. Font changed to tuscan. Trim added to road jersey lettering. Cap logo changed to the stylized "B" used today, without the white trim.
Spalding
1938-45
RED SOX font on home jersey is narrowed. BOSTON font on road jersey changed to block and red trim removed.
Spalding
Sleeve piping has been cut off this jersey.
Spalding distributed by Tim McAuliffe
Health patch worn 1942.
Wilson distributed by Tim McAuliffe
Stars & Stripes patch worn 1943-45.
1946-48
BOSTON font on road jersey widened. Nearly impossible to pinpoint the exact year of late 1940's-early 1950's jerseys. Many went to the minors & have been restored as well. Zippered jerseys appear part-way through 1946 though some players continued wearing buttoned jerseys. Cap logo enlarged and white trim added.
Wilson distributed by Tim McAuliffe
Some jerseys have 1948 or 1949 year tags, seems it was done only around this time period.
1949-67
Zippers are gone.
Wilson distributed by Tim McAuliffe
The patch on the sleeve was added when this jersey was used in the minors.
Lettering restored. Sleeve patch added when used in the minors. Wilson tags were both white and black and McAuiffe tags were not always sewn on.
AL 50th anniversary patch worn in 1951.
Jerseys no longer have Wilson tags
Tim McAuliffe
1955. New cap logo, embroidered on for first time.
This 1954 jersey was reused in 1955.
This might be a replica style.
Cap logo modified again in 1957.
Cap logo altered.