Boston Americans / Boston Red Sox Caps History

---
Boston Americans
1901
Home white and grey road caps both have rings.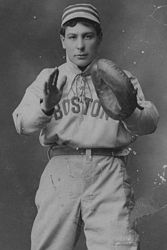 1902
Road cap is solid navy.
1903
Home cap is white with one ring, road cap is solid grey.
1904-07
Home cap is solid white, road cap solid grey.
Boston Red Sox
1908-12
Main color changes from navy to red. Home cap is solid white, road cap solid grey.
1912
Pinstripes added to both caps. Road stripes are more numerous.
Horace Partridge
1913-15
Road cap returns to solid grey.
1915-18
Pinstripes added to road jersey and caps in 1915, and removed from home jerseys and caps during 1915.
Wright & Ditson
1919-20
Home cap and jersey are solid white, road solid grey.
1921-30
Pinstripes added to caps.
1931
Red sock logo on caps.
1932
Plain white home, grey road.
1933-35
Navy cap with a block B.
1936-45
New style "B" introduced.
Spalding
Tim McAuliffe/Spalding
1946-47
Wide B with white trim.
This Horace Partidge cap was made by Leslie. Not sure if the team wore them but Partridge was a Red Sox distributor into the early 50's even as most of their gear eas supplied by Tim McAuliffe by then.
Horace Partridge/Leslie
Tim McAuliffe/Spalding
1948-54
The B gets a bit thinner especially the middle and bottom.
Tim McAuliffe/Leslie
1955-56
The B becomes narrow and is embroidered for the first time.
Tim McAuliffe/KM Pro
1957-66
Serifs on the B become much shorter.
Tim McAuliffe/KM Pro
1967-73
The B becomes a bit narrower and the serifs lengthen again.
Tim McAuliffe/KM Pro
KM Pro
1974
KM Pro
A new red front panel alternate introduced in 1974 is used daily by mid-season.
1975-76
Both navy and red front caps disappear after spring training. Caps go all red. KM Pro stops using Roman Art for logos, which get thicker.
KM Pro
1977-78
The demise of KM Pro brings in Roman Pro, and the logo gets thin again. There are New Era red caps too but I don't believe the Sox wore those - anyone know for sure?
Roman Pro
1979-1988
Devon was one of the companies founded by buying some KM Pro equipment after KM failed in 1976 (Roman Pro being the other). Devon caps were used to 1988. Caps return to navy. The logo gets thicker.
Devon
1988-1992
Around 1988 the Sox start using both New Era and Sports Specialties. Serifs are longer, and SS caps have raised embroidery, at least at first.
New Era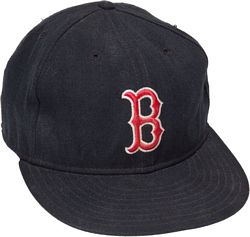 Sports Specialties
New Era
Sports Specialties
MLB Batterman logo initially appears as a glued on patch in 1992 then is embroidered on later in the year as a single color, then later in team colors.
1993-1996
Grey undervisors debut in 1993, and embroidery is raised.
New Era
1997
The serifs are lengthened once again.
New Era
The Sox trot out not one but two alternate caps in 1997. Both are shelved almost instantly, but remain official alternates through 2000.
1998-2006
Alternates are gone.
New Era
2007-08
New Era
Polyester caps and black underbrims debut.
2009
For 2009 the Sox wear an alternate cap with a red stocking logo. Though the cap isn't worn after 2009 it remains an official alternate.
New Era
2010-12
Alternate cap with a red stocking logo no longer used but remains an official alternate.
New Era
2013
BP cap used a few times.
New Era
2014-present
BP cap dropped.
New Era